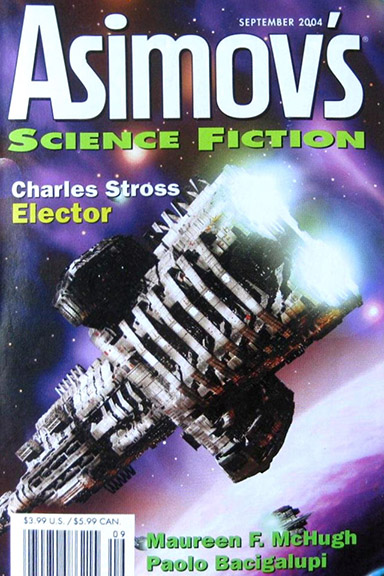 The Third Party
In Asimov's Science Fiction, September 2004. Reprinted in The Year's Best Science Fiction: Twenty-Second Annual Collection, edited by Gardner Dozois. New York: St. Martin's Griffin, 2005. ISBN 978-0312336608 (tpb), 978-0312336594 (hc). Reprinted in The Mammoth Book of Best New SF 18, edited by Gardner Dozois. London: Robinson, 2005. ISBN 978-1845291166 (tpb), 978-1780337210 (ebook). Reprinted in The 2020 Look at Space Opera Book, edited by Allan Kaster. Barker, TX: AudioText, Inc. ISBN 979-8682765065 (tpb). ASIN B08KLJ195D (Kindle).
It's been ten thousand years since the deluge, ten thousand years since the world of Salomé was cut off from every other human colony, ten thousand years since the collapse of civilization in the interstellar diaspora. Now not one but two interstellar civilizations have found Salomé again.
The Outreach missionaries come from the civilization called the Community, bringing the promise of freedom. The company called Marginal LLC comes from the Association, bringing the promise of profit.
And no one's asking the people of Salomé what they want.
"Quiet, now, miss," he said. "Right now you're a material witness. You don't want to become a suspect." He went back to what he was doing, fishing around in what was becoming a small pool of red, and came up with a teardrop of gold, no larger than the nail of Thalia's little finger. "There we go," he said. He tugged a handkerchief from Cicero's pocket and used it to clean the knife, which he folded and put away. Then he pressed the handkerchief against the wound. "That ought to do it."

He stood, holding the golden drop up to the light.

"What—" Thalia began.

"Hush," the man said, holding up a hand.

Thalia became aware of a tiny buzzing noise, like a faint and distant wireless voice caught by chance in between stations. It sounded angry and worried.

"There's some as would give a king's ransom to have this under their microscopes," the man told Thalia. He let the thing fall to the tiles. "But the price of letting some others listen in would be much higher than that."

And he crushed the golden teardrop under his heel.