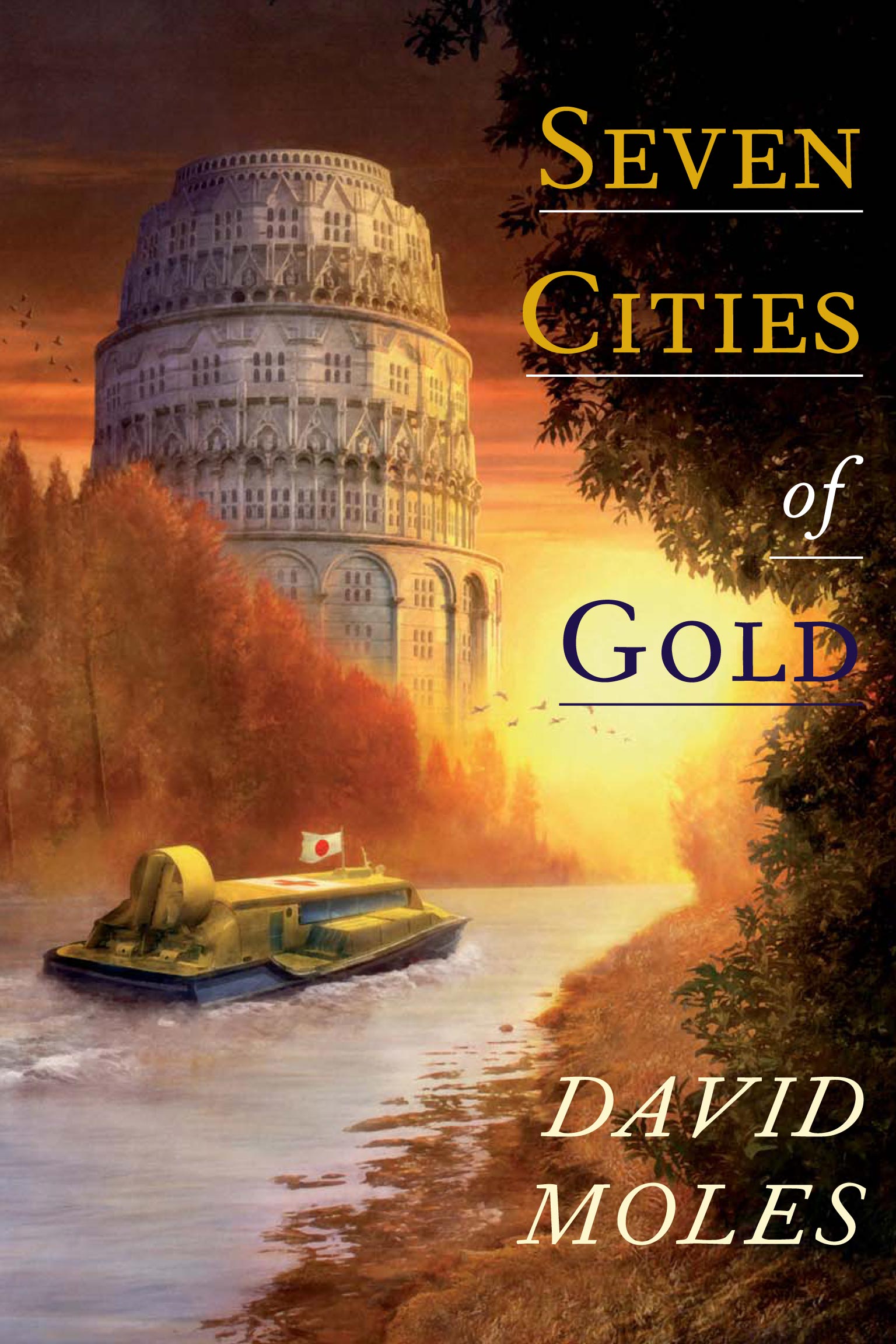 Seven Cities of Gold
a novella

David Moles. Seven Cities of Gold. Hornsea: PS Publishing, 2010. ISBN 978-1848630840 (jacketed hardcover), ISBN 978-1848630833 (casewrap hardcover). ISBN 978-1848632288 (ebook). Reprinted in The Year's Best Science Fiction: Twenty-Eighth Annual Collection, edited by Gardner Dozois. New York: St. Martin's Griffin, 2011. ISBN 978-0312569501 (tpb), 978-0312546335 (hc), 978-1429983068 (ebook). Reprinted in The Mammoth Book of Best New SF 24, edited by Gardner Dozois. London: Robinson, 2011. ISBN 978-1849013734 (tpb), 978-1849017695 (ebook). Audio edition read by Nicola Barber in The Year's Top Short SF Novels, edited by Allan Kaster. Barker, TX: AudioText, Inc., 2011. ISBN 978-1884612978.
In anno domini 714, seven Catholic bishops fleeing the Muslim invasion of Spain set sail across the Western Ocean. There, in a new world, they founded seven legendary cities—and a legendary Christian empire.
Now, twelve centuries later, war rages across that new world: a culture war, a clash of civilizations, as the armies of the Caliphate of al-Andalus invade a failed state become a terrorist safe haven, a breeding ground for global reconquistadores.
Doctor-Lieutenant Chië Nakada is a physician with the Relief Ministry of the Regency of Japan. In the war of Muslims and Christians, Buddhist Japan is officially neutral. But when a mysterious weapon of mass destruction razes the Muslim-occupied city of Espírito Santo, Nakada is tasked to travel up the great river Acuamagna, seek out the messianic leader of the Christian resistance, and put a permanent end to that leader's apocalyptic delusions.
"You're here to take her away, aren't you," he said quietly to Nakada as he was climbing out of the boat. "Like the other one."

"Take who away?" Nakada asked.

"The Virgin." When the Russian saw Nakada's incomprehension, he added, in Antilian, "La Virxe da 'Palaxia."

"Dos Orsos?" Nakada asked. "What do you know about her?"

Semyonov looked to either side, as if the flat, burnt, waterlogged landscape might hide eavesdroppers. The back of one of his hands, Nakada noticed only now, had been tattooed with a rude cross.

"Up the Río Baldío," he said eventually. "Town called San Lucas. There's a lake. Artificial. An island." Then, as if he'd said too much, the Russian turned his head down and away.

"An island," Nakada repeated, and shook her head. She nodded to Shiraoka, who started the engines.

"It's all true!" the Russian called out, as the ambulance boat pulled away. "Seven bishops," he continued, his voice growing fainter. "Seven cities. Seven spirits of God. Seven seals. Seven angels, with seven trumpets! Seven heads! Seven horns!"